27 January 2014—click here to find out about what the Maine Coalition to Stop Smart Meters has accomplished and why we need your help now.
27 January 2014—click here to read about the Reply Briefs filed this month with the MPUC.
22 December 2013—click here to go to Ed Friedman's update about our grassroots case against Central Maine Power through the Maine Public Utilities Commission.
The MPUC has opened a new investigation into CMP! (Central Maine Power, or, as we call it, Central [SP]ain Power.) Read about it here.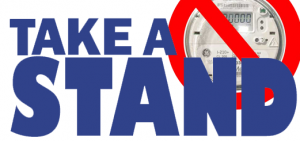 Click here to see the legal documents and summary! In the fall of 2012 we began a major "smart-meter" safety investigation at the Maine PUC (MPUC). It will likely run into the summer of 2013. There have been and will be a ton of filings with the MPUC in this case. These can be accessed from the MPUC website; type in "2011-00262″ in the Case Lookup field. We will shortly post our expert testimony and witness testimony on this site for your convenience.
ALERT: You are not required to give CMP your Social Security Number (click here for Social Security Administration guidelines)! If you supplied your SSN to CMP in the past, you can tell Customer Service to remove your SSN from your account.
Also, for those of us who have rejected not-so-smart CMP meters, CMP is now billing based on its "estimates" of your usage, rather than read the meter each month or—here's a thought—ask you to read the meter and report the reading to CMP. (Fact for the day: Did you know that Central Maine Power [CMP] is a subsidiary of Iberdrola, a company headquartered in Spain?)
Expert and lay testimony (PUC filings) are at our Legal page, which also contains the stupendous summary Ed Friedman wrote of the whole CMP-MPUC fiasco to date.
** Please bear with us as we develop this site, and sign up to receive updates by email! **
Recent Posts:
Older Entries »