9/23/14: Maine Public Utilities Commission final deliberations in their investigation of smart meter health and safety. Commissioners David Littell [part 1] and Mark Vannoy [part 2]. PUC docket 2011-00262. For more information: PUC website [filings] or www.mainecoalitiontostopsmartmeters.org. We will wait for Commissioner Littell's 62 page opinion to be posted and for an official Order to be published before further considering and deciding on our next steps. We will continue our resistance, because harm is not an option and extortion is not a choice.
Thank you.
Ed Friedman
Parts 1 & 2 of the Maine PUC proceeding discussing decision on smart meter health and safety investigation. Thanks to Martha Spiess for filming.
Part 1: 41minutes – primarily Commissioner David Littell
http://youtu.be/HMN_bDwmtgQ
Part 2: 40 minutes – primarily Commissioner Mark Vannoy plus brief discussion
http://youtu.be/kehqebbsGww
25 April 2014—Ed and Kathleen do a grassroots education session in Winslow! Read about it here.
12 April 2014—Read our Complainants' Comments about the (bogus) Examiners' Report to the MPUC commissioners here.
27 March 2014—The MPUC has issued its Examiner's Report (see also the appendix). The MPUC's comment period remains open until 11 April. Kit Weaver of SkyVision Solutions has posted a very fine analysis of the report (read it here). Our own Dianne Wilkins has this to say about the report:
The PUC refused to even look at over 1,300 peer-reviewed, published research studies showing harm to humans from the level of radio frequency radiation emitting from smart meters. Read the transcripts of the PUC to find this truth. Since the PUC had already approved and installed the smart meters before even determining if they could cause harm, it is highly unlikely any of them has the integrity/honesty or guts  to admit they were wrong. Instead they are cowards who will radiate children, pregnant women (the most vulnerable) with  toxic levels of radiofrequency radiation before admitting they are wrong. I was there and read all of those studies and heard the majority of the expert MD/PhD witnesses say this stuff causes cancer, infertility, brain damage, learning disabilities and much, much more.  Trust me: throw the bums out, they are corrupt, this stuff is hurting people. Write your congressmen, protest—this is wrong.
And here's Ed Friedman take:
While not surprising the PUC staff continues to thumb their nose at the law [ensure safety] and show their bias in favor of utilities, it's particularly egregious they rejected something like 800 peer-reviewed scientific references submitted to them as evidence of RF bio-effects while casually accepting at face value, testimony from CMP's product defense consulting firm Exponent, a firm that would be hired to assure citizens it's perfectly safe to leave young women with Jack the Ripper.
27 January 2014—click here to find out about what the Maine Coalition to Stop Smart Meters has accomplished and why we need your help now.
27 January 2014—click here to read about the Reply Briefs filed this month with the MPUC.
22 December 2013—click here to go to Ed Friedman's update about our grassroots case against Central Maine Power through the Maine Public Utilities Commission.
The MPUC has opened a new investigation into CMP! (Central Maine Power, or, as we call it, Central [SP]ain Power.) Read about it here.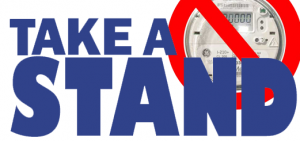 Click here to see the legal documents and summary! In the fall of 2012 we began a major "smart-meter" safety investigation at the Maine PUC (MPUC). It will likely run into the summer of 2013. There have been and will be a ton of filings with the MPUC in this case. These can be accessed from the MPUC website; type in "2011-00262″ in the Case Lookup field. We will shortly post our expert testimony and witness testimony on this site for your convenience.
ALERT: You are not required to give CMP your Social Security Number (click here for Social Security Administration guidelines)! If you supplied your SSN to CMP in the past, you can tell Customer Service to remove your SSN from your account.
Also, for those of us who have rejected not-so-smart CMP meters, CMP is now billing based on its "estimates" of your usage, rather than read the meter each month or—here's a thought—ask you to read the meter and report the reading to CMP. (Fact for the day: Did you know that Central Maine Power [CMP] is a subsidiary of Iberdrola, a company headquartered in Spain?)
Expert and lay testimony (PUC filings) are at our Legal page, which also contains the stupendous summary Ed Friedman wrote of the whole CMP-MPUC fiasco to date.
** Please bear with us as we develop this site, and sign up to receive updates by email! **
Recent Posts:
Older Entries »